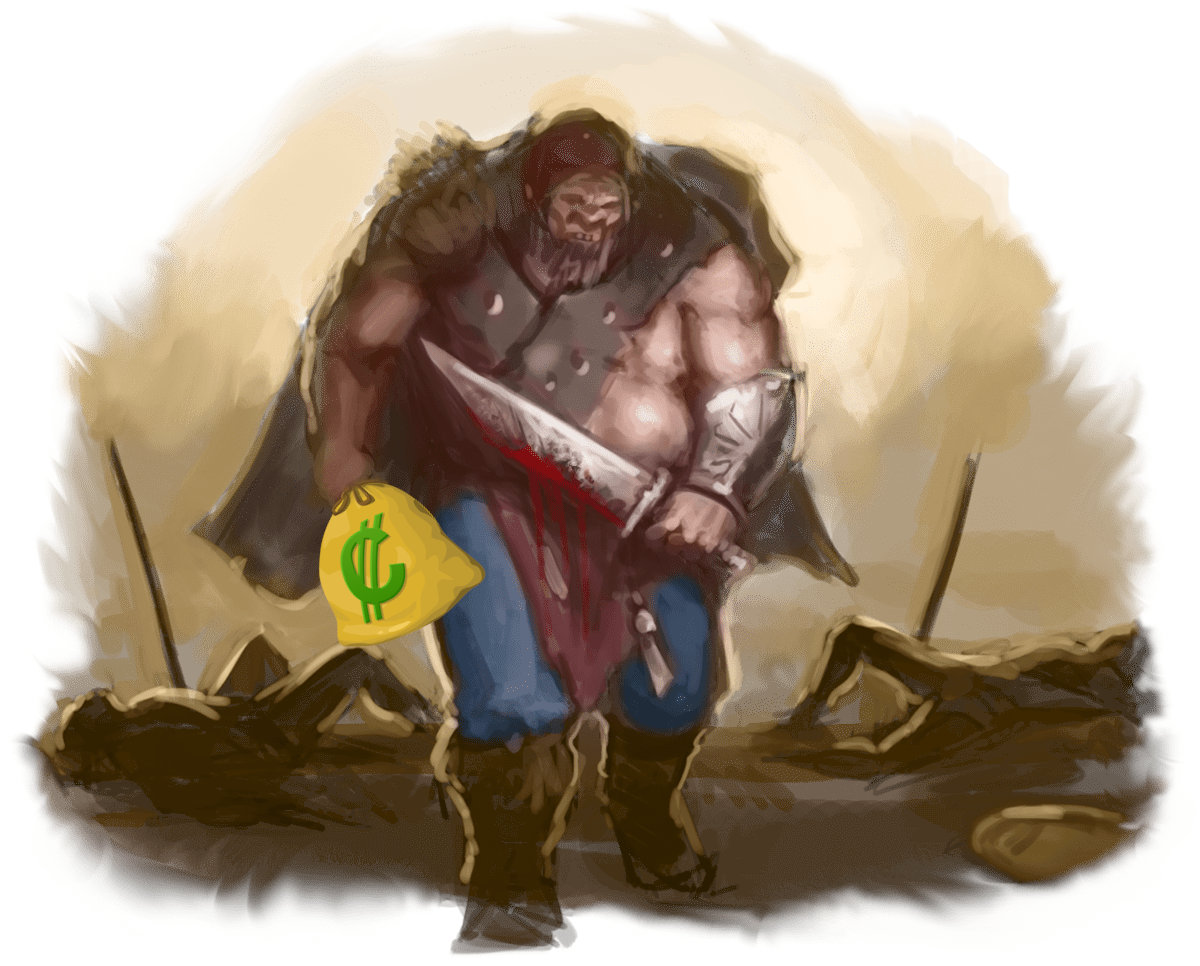 Building on a Budget (with Hrothgorn's Mantrappers)
It's that time again! We're back with yet another Building on a Budget article, this time focussing on the big man himself, [Hrothgorn]
and his Mantrappers. If you're new to the series, this is part of a collection of articles designed to get you into the more competitive aspect of Warhammer Underworlds, the Championship Format, without breaking the bank or requiring every available card. As always, these are not intended to be T1 tournament decks, but rather a solid base which will enable you to play with and against other meta decks without feeling completely overwhelmed, and give you a great start in the Underworlds competitive scene.
With the Mantrappers, we're back to another aggressive warband. Whereas previously we used good, basic aggressive cards to get the job done, the unique keyword abilities that Hrothgorn possesses mean we take a slightly different approach than we would with say, [Morgok's Krushas]
.
Out of the Box
Adding all 32 faction cards from the warband to our deck gives us the following:
An important note about this warband is that out of the box, the included faction only deck is not Championship legal due to having 8 surges. Not to worry, we'll fix that in our next section.
Shopping Time
As with all of our Building on a Budget series, we're going to assume that you have access to the following items:
Direchasm core set
Essentials card pack (skip this if you are a returning Shadespire / Nightvault player as you will own most of the cards already)
In addition to these, we are going to be adding two other warbands to our shopping list – one from Beastgrave, and one from Direchasm. These are Rippa's Snarlfangs and The Starblood Stalkers. These two warbands contain a lot of very useful cards that support our Hunter-based aggressive playstyle.
A note on the Championship Format rotation
As of the writing of this article (mid July 2021), we're heading towards the twilight months of the current Beastgrave/Direchasm season of the Championship format. What does this mean? It means that at the end of the season (heralded by the release of the starter set for the new season), all Beastgrave universal cards will rotate out of play, and will no longer be legal in the Championship format. As such, the universal cards we're recommending below from the Rippa's Snarlfangs expansion will only be useable until that rotation date (which was December for the release of Direchasm, but historically has been around late September). Note that all Beastgrave warbands, and indeed every warband that has been released since the very first Warhammer Underworlds boxed set, will always be legal (and that includes their faction-specific cards, unless banned or restricted in the future).
As a result, where we have recommended universal cards from a warband expansion that will rotate out (both here and in the "potential purchases" section), it's important you understand that you will only get a limited amount of playtime with those universal cards, and they will not be useable in the Championship format again unless they are reprinted in a future set. As such, where we've chosen Beastgrave cards, we'll give you an alternative card that is printed in either a permanent set (such as the Essential Cards Pack) or an alternative Direchasm season card (including those printed in the Silent Menace deck). If you are a fan of the playstyle, aesthetics or models of any of the previous Warhammer Underworlds warbands, and are interested in them despite their universal cards rotating, then I highly recommend you pick up a copy before they exit widespread circulation.
Evaluating Objectives
Surge Objectives
Let's take a look at the faction objectives, starting with the surges. As mentioned above, we have 8 available to consider.
Out of the 8 available surges, we're only keeping 2. Time to put in some replacements:
End Phase Objectives
Keeping it short and sweet here, we only have 4 end phase objectives to evaluate:
We've struck out on faction end phase cards. Let's look at what we can use instead:
And that rounds out our objective deck. Let's take a look:
15 glory is an acceptable ceiling for an aggressive warband, and we've gone for consistency wherever possible. Let's look at the gambits we'll use to support our scoring.
Evaluating Gambits
Now let's take a look at the available faction gambits and see which fit with our playstyle.
3/10 for gambits, but the ones we've kept are all solid and help us score various objectives. Let's fill the remaining slots:
Our gambits are all well placed to advance our gameplan and score our objectives. Let's look at the available upgrades we're going to spend that glory on.
Evaluating Upgrades
4/10 on the upgrades, but again the ones we're keeping are very strong. Here's the replacements:
Putting it all together
With our selections above, the deck looks like this:
Example Hand
This example hand, despite being a little slow, is a good showcase of some potential lines of play for this deck. We've got one close to guaranteed surge speed glory in Unexpected Cunning, one guaranteed glory in Intimidating Display, and another almost guaranteed glory in Awesome Predator because we have Great Strength in hand (which we can fuel with the glory we score from Unexpected Cunning). In our power card hand, we've got a good mix of defensive and offensive upgrades, and gambits which enable us to get stuck in and (hopefully) kill something adjacent to inspire. As we've got Duel of Wits, there's a good chance that we'll be able to activate it during the round. Let's see what we draw:
While neither of these have an immediate use in scoring our objectives, having both in hand gives us some options. Assuming we do score Unexpected Cunning, either by getting another glory from a kill and giving an upgrade, or simply playing Gnoblar Scramble in the end power step, we're going to get another objective before end phase. Let's draw and see what it is:
While this objective hand has been pretty slow, it has been very scoreable. Thanks to Gnoblar Scramble, we're likely scoring this as well. So we're looking at 3-5 glory in the end phase, not counting glory from kills or Primacy. Not a bad start considering the speed of the hand. This means that our objective hands in rounds 2 and 3 will likely be very gas, as we'll be more likely to draw into surges, meaning that scoring [
Aggressive Strategy]
is less awkward. As always, this section is written based on a sample hand draw, and highlights some theoretical lines of play to go with it, which doesn't necessarily reflect the reality of playing the game.
What to do when…
Expanding on the example hand above, this new section for Building on a Budget is intended as some very low-level advice on tactics, primarily with a focus on what to do when certain situations happen within the game, and some potential lines of play for this deck taking into account the deckbuilding decisions.
…Hrothgorn can't make an attack
This is a tough situation and is the bane of all aggressive warbands. While we do have some passive glory in our surges and end phase cards, by and large we do need to be getting kills for our gameplan to succeed. If possible, focus on lower value targets with lower defensive capabilities to get some easy glory, or use Thrafnir as a torpedo into a squishy fighter if you can.
…someone offsets me
Offsetting when playing Hrothgorn or being offset by an opponent is actually a good strategy, as we're generally only needing to get one or two fighters (including Hrothgorn himself) into or on the edge of enemy territory, so we're not as concerned with chokepointing. Additionally, due to the sheer number of wounds we possess, the calculus of moving through a lethal is different versus a three or four wound fighter, meaning that cutting off chokepoints on certain boards with lethals (such as the Shyishian Stardial) has less of an impact on us.
…my opponent keeps diving my Gnoblars!
You should be deploying your two objectives (which, as an aside, means you should always choose to deploy second if you win the roll off) as far back as possible within your territory, and positioning your Gnoblars in starting hexes as far back as possible (while being mindful of warbands or cards that enable backline diving such as [
Beast Trail]
or [
Mask of Darkness]
). Boards with 2 or more blocked hexes can be good, as you can usually orient the board to provide cover for your Gnoblars while placing Hrothgorn and Thrafnir close to enemy territory. But generally, once the Gnoblars have scored [
Path to Victory]
, you can consider their job done. If you take a board that has built in lethals, you can also run your Gnoblars into those lethals to prevent them giving up Primacy.
…Hrothgorn dies!
Say good game and pack up. In all seriousness, depending on how early in the game this is, it most likely means you will lose. If it happens towards the end of the game and you've managed to take an early lead in glory, all you can do is use your remaining fighters and hope to deny your opponent scoring enough to overtake you. If they're an objective based warband, you can use whatever remaining push gambits you have to either push them off of objectives, or try to hold equal or more with your remaining fighters. [Luggit and Thwak]
are useful here, because they always get to either drive back or push the person they attack, even if they fail, meaning you can use them as a last ditch effort to push a fighter off an objective if you can reach them. But generally, losing Hrothgorn leaves you with very little chance to win – although Thrafnir can hold most of our upgrades and score a few objectives for you as well, so it's not an auto-lose (although it is an uphill battle, make no mistake).
Potential purchases and next upgrades
As with my previous article, below are some suggestions on additional warbands to add to your collection to enhance your playstyle with this warband. These are but a few ideas of how to improve the gameplan of this deck, while largely keeping with the same aggressive approach. As we've mentioned previously, this is more of a showcase of warbands and cards that you could upgrade the deck with – almost every Championship legal warband has one or more universal cards that can power up your deck. Many warbands mentioned previously in the series will already have cards that you can drop in as a powered up replacement (such as [
Victimise]
from Morgwaeth's Blade-coven), so I've tried to highlight other warbands to show off their powerful universal cards.
First up – [Khagra's Ravagers]
. If you've been following this series and picking up the mentioned warbands, you may already have access to these cards. Nonetheless, here are some options:
Next, we'll look at [The Crimson Court]
:
[

Not So Fast

] – This is essentially "get a kill" while Hrothgorn is on the battlefield. An extremely synergistic surge which is giving us glory for what we already want to do.
[

Narrowing Passage

] – This is another card that is situational, but thanks to Hrothgorn's effect becomes a lot more useful. Being able to target an early upgrade on a fighter is great for tempo, even if there isn't direct card advantage. This also allows you to brick some gameplans (such as Lost Pages or Avatar), if you can time it correctly or get lucky with the random selection.
[

Silent Helm

] – This is a fantastic defensive upgrade for both objective and aggressive playstyles. Being able to downgrade a critical roll can be crucial in keeping Hrothgorn alive longer without giving him extra wounds.
And finally, we'll look at a Beastgrave warband, [the Grymwatch]
:
While we've built our deck to be a traditional Hunter aggro deck, as we've alluded to in the article, you can also play the Mantrappers with a flip/remove objective playstyle, leveraging cards like [
Feed the Beastgrave]
and [
Coveted Spoils]
. In addition, I think there might be some potential for a defensive Hold 2 deck that leverages the Gnoblars to hold objectives and uses Hrothgorn and Thrafnir to chokepoint and defend them – but that's for another article. In any case, I hope this article has been useful to you – now go out there and hunt some manflesh!